HISTORY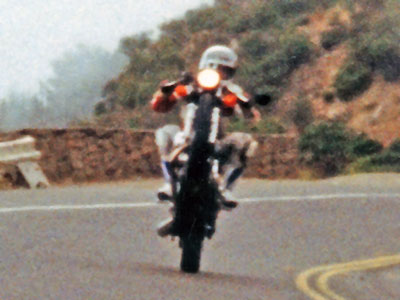 The roots of Performance Concepts can be traced to when Patrick Ho was just a boy, fascinated by all things mechanical, his aptitude began to show as early as age 7. He could often be found disassembling whatever he could get his hands on just to see how things worked. It was this mechanical inclination and a strong desire to create which led him towards custom cars. At age 15 he was learning fabrication, painting and engine work at various hot rod and restoration shops. By 18 he was building full customs and doing restoration work for his own clients - for events like GoodGuys, Oakland Roadster Show, Pebble Beach, Silverado, etc.
He bought his first street bike in 1988, a Harley-Davidson 883 Sportster and transformed it into a cafe style racer with some help from K. C. Gager of BRG Racing. It was later displayed it in the Cycle World Readers Collection at the 1989 International Motorcycle Show. Patrick's creation garnered some notoriety, as a Harley that ran with some the best Japanese replica-racers of the era. It was during this time he would leave the automotive world to pursue his passion for motorcycles, building custom bikes and preparing machines for local road racers. In 1992 he partnered with friend and mechanic Jerome Risby of Racer X and specialized in engine & suspension tuning. While enjoying some success, he soon realized the need to expand his knowledge and skills.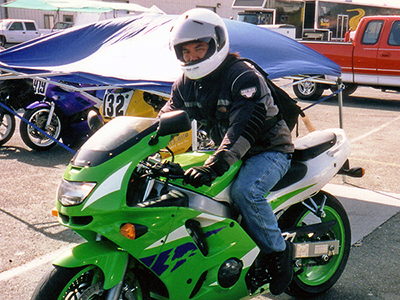 In 1994, Patrick was given an opportunity that would become known to him as "the education". He went to work with and studied under Robert Downing, at R & D Cycle Performance. In the late 70's and early 80's, Robert was an accomplished motorcycle drag racer and went on to become a premier engine developer. Robert established R & D as a hub for a multitude of racing disciplines to converge, building and tuning engines for - road race, drag race, dwarf car, motocross, dual sport endurance, atv, desert racing, personal watercraft and so on.
Robert's diverse background in all things racing, extensive knowledge of thermal dynamics and air & fluid flow, put him in the company of the best of the best. His experience, knowledge and teaching style, is what cleared the way for Patrick to excel in the specialized discipline of race engine development. Robert's involvement in AMA 250 Grand Prix, AMA Superbike, NHRA Drag Racing and on occasion FIM World Superbike - had Patrick honing his engine building skills while gaining the invaluable experiences and knowledge that only comes from working within the inner-sphere of professional competition.
In 2000, Patrick took a break from the demands of wrenching, shop management and racing to decompress and relax awhile. Later that year, he established Performance Concepts. He's since, earned a reputation in the racing community for proven results and reliable power. As a result, he's also become both a subcontractor and consultant to other motorcycle shops for cylinder head & engine development work and custom fabrication. All the while, continuing to develop his craft and strive for excellence. Patrick's dedication to the work has contributed to many championships, records and podium finishes. He credits his mentor, Robert Downing for much of that success...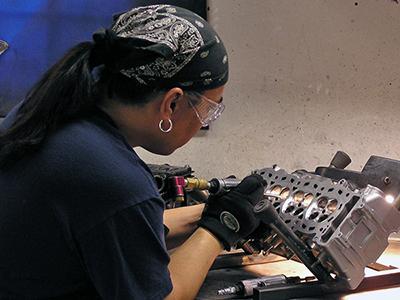 "Timing is everything they say, we've all have people in our lives that influenced our path and development, positive or otherwise. Had I not met Robert at that time, I might be a very different person today. I will forever be grateful for his influence and for thinking enough of me to invest so much of his time and efforts on just another hood-rat from the ESO (East Side Oakland). He pushed me to push myself not only at work, but in life, to be a better person tomorrow than I am today and not just someone who is good at a job"
2009 marked the beginning of a downturn and almost 6 years of absence from full-time work in order to focus on family matters, serving as a primary caregiver. Attempting a part-time presence proved impractical and ineffective, ultimately resulting in considerable damage to his reputation, customer relationships and the business. Year after year of absence raised concerns about re-entering the industry as an employee, let alone any attempt to restart and rebuild the business. Even if he could somehow break from family obligations, there was much to consider.
In early 2015, Patrick was able to return to full-time work with the added challenges of rebuilding his reputation and the business. He proved to himself, the onlookers and the naysayers that he still has the goods and drive to produce and deliver. Patrick's hard work and dedication was rewarded with a great 2015 season...
4 - SCTA Land Speed Records
2 - AHRMA National Championships
4 - AHRMA Regional Championships
4 - AFM Championships
3 - AHRMA National & Regional - 2nds and 3rds Overall
7 - AHRMA National & Regional - Top 10 Overall
1 - AHRMA National Championship Overall Points (#1 Plate for 2016)
1 - AFM Championship Overall Points (#9 Plate for 2016)
Those were just the racers and teams Patrick worked with directly. Performance Concepts is a long time sub-contactor other shops and builders. As a result, Patrick's work populated the front two thirds of multiple classes in national and regional series with the most competitive cylinder heads and engines available anywhere. Performance Concepts is back!
The rest has yet to be written...